----------------------
Gigafone Records Compilation
Volume One, Complete set
Volume One, Number One
Volume One, Number Two
Volume One, Number Three
Volume One, Number Four
-----------------------
Raw Tracks
These are original unedited field recordings from Nagra and DAT tapes, transferred to CDR for superfans, archivists, and kooks.
coming soon
-----------------------
Live Albums
Various live recordings that have been packaged for retail and are available for a limited time.
Boréal Tordu - Démonstration
Robert Sylvain, Jr. - One Word Poems
Douce - Live at the Big Easy
-----------------------
groovy stuff
Gigafone Records T-shirt,S, M, L, XL white on black

Get your new Gigafone Records t-shirts here! Cool Black 100% cotton with the Gigafone Records logo in white on the front and the cover art from the debut installment on the back. send $15 to the above address or scroll down for other payment options. Help spread the music!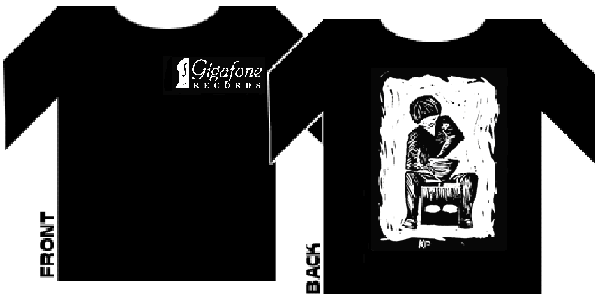 -----------------------