What is Gigafone Records?
Based in Maine, Gigafone Records is commited to local music: from all over the world. With the internet providing a community setting, Gigafone Records will bring artists from all walks of life together to change the way people listen to music, by introducing the joy of live music in recorded form. The ultimate goal of Gigafone Records is to return music to its original place as the temporal art form; releasing it, rather than capturing it, by documenting real, live, honest performances with integrity.

The artistic direction of Gigafone Records is focused on original song stylings drawing on the acoustic traditions of American folk, blues, celtic, mountain, maritime, cajun, and bluegrass genres, but not discluding American roots music like rockabilly, honky-tonk and jazz.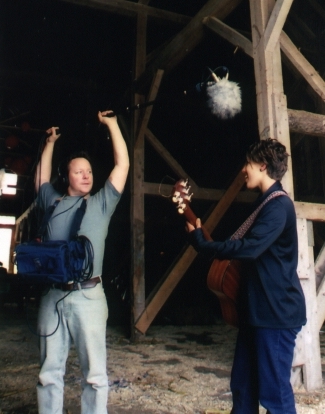 A brief history of Gigafone Records
Gigafone Records is the brainchild of Robert Sylvain, of Portland, Maine. Robert is a songwriter, performer and proponent of roots music, with twenty years of experience in creative media technologies from studio and on-location music recording to production sound recording and sound design for video and film.

As a free-lance field recordist, Sylvain has recorded production sound for the PBS adventure series 'Anyplace Wild,' the short comedy film 'Traditional Family Vampires,' as well as several other documentary and narrative pieces. Through a short stint in the commercial department WCSH-6 television in Portland, he contributed to commercial, promotional and public service spots as camera, gaffer, grip, sound mixer boom operator, Foley artist, editor, and field producer. Before moving to Maine, he worked for a production company in Minnesota and directed seven nationally distributed informational videos including a series for the children's' music group 'The Crayons' published by World Library in Chicago.

Through Sun Sound and Video in St. Cloud, Minnesota, Sylvain did field recordings for Minnesota Public Radio. As head engineer, Sylvain also produced several local records ranging from 'Put up Your Dukes' by The Sandwiches to 'Seasons' by the St. John's Boys' Choir. Beginning in 1987 as an assistant engineer at the world-class Boston studio, Downtown Recorders, Robert had the opportunity to work with award winning producers on major label projects such as the Pixies and the Northern Lights.
Recording concerts on location for Minnesota Public Radio gave Sylvain his appreciation for the quality of an acoustic space and the importance of a great live performance. He has recorded live performances of internationally renowned classical artists and speakers including Garrison Keillor, violinist Chee-Yun, the Boston Chamber Music Society, the American Brass Quintet, the Miami String Quartet and the Preservation Hall Jazz Band. It was through this experience that the idea of living music began to take hold.

"Soon after arriving in Portland, it became clear to me that the city had more than its share of songwriting talent, and an unprecedented American roots music scene. Playing out and sitting in on Dobro, mandolin, and guitar around town got me in touch with some fantastic artists and creative people. As soon as the idea come out of my mouth, I had people helping out. Since then it has been a great collaboration. I'm really happy with how it's been going and can hardly wait to see where it'll take us next."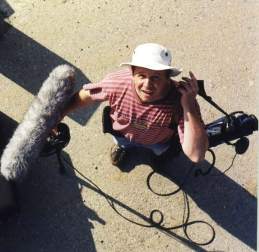 A Word from the Artistic Director
The response to the debut issue has been so phenomenal that it seems as though we may very well be on the brink of a revolution. Gigafone Records represents the culmination of a trend in music so natural and so sublime that it's difficult to tell if it defines our culture or if our culture defines it. At every turn we see signs of a culture hungry for art that is real and human, that strips away the illusions created by technology. Gone are the days of contrived electronic sounds and slickly produced pop recordings. Now is the time for a return to roots, not in a sentimental or nostalgic way, but rather with innovation and vigor, to find new, unexplored paths from the source of American roots music: blues, western, maritime, mountain music and more. Now is a time for a return to the search for truth.

The truth is that this record presents imperfection. But it is imperfection, the element of humanity in music, that makes it beautiful. Studio records typically deny us the chance to share in the joy of discovery represnted in the interchange between Abi and Haakon as they warm up to "Big Front Porch." A major label wouldn't leave the phone ringing in the mix. It wasn't intended, but after a few listens, you actually long for it to chime in on the following verses. Jenny plays a chord in "Corner Girl" that she doesn't usually play, but it lends a striking twist of the knife. Wherever that came from, it works. And listen to the smile in John Witham's voice as he accidentally has "four pretty maidens" carry his coffin in "Streets of Laredo." "Why not?" he says afterward.

While I point out all these priceless little foibles, I won't bother to call attention to the technical faults in the recordings, except to say that I learn something new with each session. Recording is a dynamic and creative art as well as a science, and hopefully these recordings convey a sense of place and time without calling attention to the science. Similarly, each time these artists play, something new is uncovered. As a temporal art form, each beat is a new discovery, a new adventure, and a recognition of fleeting time. The moment, the magic in that space of time, is what we're after. Understand, though, that by recording we're not trying to "capture" the moment. Rather, we are releasing it to take on a new life each time you play The Record. As Evan Eisenberg says in his book, The Recording Angel, "there is no original musical event that a record records or reproduces. Instead, each playing of a given record is an instance of something timeless." So feel free to visit that timeless place as often as you like, and enjoy the moment while it lasts, at least until the next issue arrives

-Robert Sylvain, April 1, 2001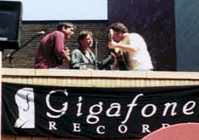 The future of Gigafone Records
Nearly six years since the completion of Volume One, many changes have taken place. The landscape of music distribution has changed dramatically. One of the original pillars of the Gigafone Records model was the idea of a periodical digital download, but back then there was no simple mechanism to accomplish that. Enter the podcast- a perfect fit for Gigafone Records. By that time, of course, I had my hands full with two children and two active bands, and Gigafone Records took a backseat for a while. Then came the new generation of solid state digital field recorders, and I could not resist. Nagra and DAT produce great quality recordings, but transferring the raw tapes to a DAW and into a finished product was a longish process made simple by today's technologies.
Another new source of inspiration came thorugh my musical exploration of my Acadien heritage. Playing French-American roots music with two very different bands alongside two of my best buddies, who also are two of the greatest fiddlers of their generation, opened my eyes to a whole genre of folk music that has been in hiding here in Maine for centuuries. Touring brought me to old Acadie and the legendary St. John's River Valley, where I found the fountainhead of the unique musical culture of the Acadiens, known in Louisiana as the Cajuns. Armed with an old notebook of Acadien songs that my grandmother kept, I have begun the search for my rmusical roots through recording, playing, singing, and most of all, listening.
-Robert Sylvain, January 3, 2007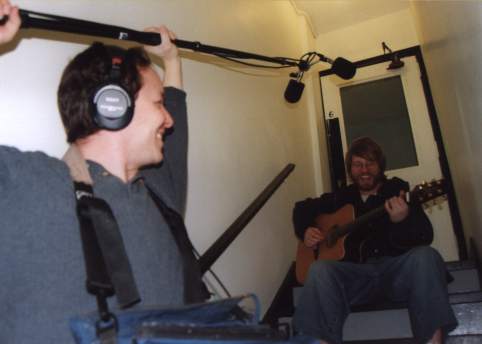 ------